Join us in making a meaningful difference in the lives of homebound seniors
As a volunteer, you'll have the opportunity to be a beacon of hope for those in need while fostering a strong sense of community engagement and team spirit.
WHAT WILL I BE DOING WHEN I VOLUNTEER?
When you volunteer with Adopt-A-Route, you will be delivering more than just meals – you'll be delivering warm smiles and friendly greetings to homebound seniors in your area. The process is simple and impactful:
Meal Delivery: You'll begin your volunteer journey by picking up nutritionally balanced, hot meals at a central location.

Pre-Determined Route: Your task is to deliver these meals directly to the homes of seniors along a pre-determined route. Your timely presence and caring demeanor will brighten their day and reduce feelings of isolation.

Return and Resume: Once you've completed your route, simply return the delivery packaging items to the central location, and then you can get back to your regular day knowing you've made a positive impact.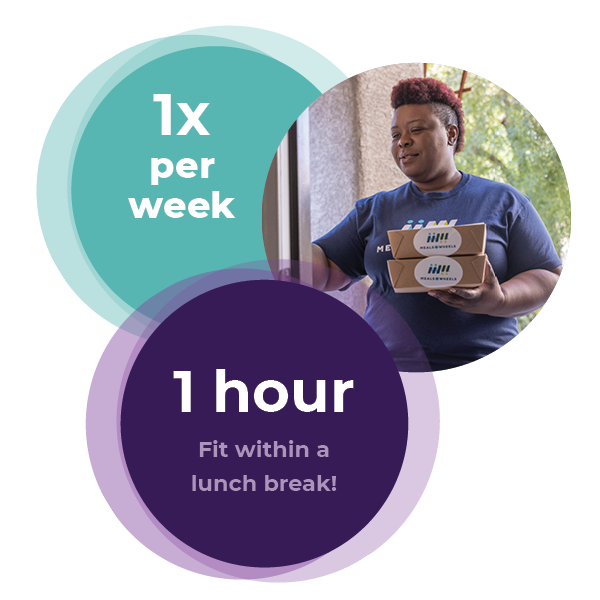 BENEFITS OF CORPORATE VOLUNTEERING:
Community Engagement: Strengthen your company's connection with the local community and demonstrate your commitment to making a positive impact.
Greater Team Self-Awareness: Volunteering together fosters empathy, understanding, and a sense of unity among your team members.
Employee Satisfaction: Engaging in volunteer work can boost employee morale and job satisfaction, creating a more positive work environment.
Strong Appeal to the Purpose Generation: Younger generations of employees are drawn to socially responsible companies. Corporate volunteering shows your dedication to a higher purpose.
Community Awareness: Through Adopt-A-Route, you help raise awareness about the challenges faced by homebound seniors and the importance of community support.
Enabling Independent Living: The Meals on Wheels Program plays a crucial role in enabling the elderly, sick, and disabled to remain in their own homes with proper nutrition and safety checks.