Community update: Under renovation to create more community spaces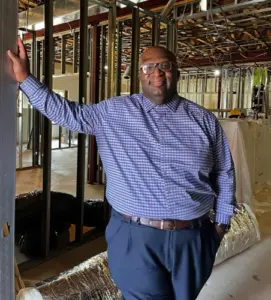 Although its doors may be closed to visitors from the public, Kenosha Area Family and Aging Services continues to serve the community as staff and volunteers work through building renovations. Years in the planning, the KAFASI office, located at 7730 Sheridan Road, is being updated and expanded to better serve the public.
Changes to the building will include new offices, more spaces for cubicles, a new central air system, new carpet, new electrical system, larger spaces for large groups to meet and other general cosmetic changes.
"It will provide us a space for community conversations (and) a conference room to be able to sustain that," said KAFASI Executive Director Ron Tatum. "For our Family Services Division, they will have rooms to be able to talk with families (and) our Friendly Visitor Program will have rooms to be able to bring in seniors in for that one-on-one conversation companionship, so we're really excited it's going to do a lot."